Polars Chart
Left Hand Side Panels
Race Name

This panel contains the full name of the race selected.
It also contains the following contextual action button:

Archive this race
Moves the race into the Races archived.
Available only for races in progress.

Restore this race
Moves the race into main list.
Available only for races still in progress which were previously archived.

Get Permalink
Transforms the Page URL in the address bar to reveal permalink.

Show Map
Opens a map showing the starting and ending points.
Route

This panel shows the starting and ending points of the race.
The GPS coordinates are gathered from the race setup sent by Virtual Regatta™.
Also, no intermediate gates/buoys are displayed here.
This is why, on races where starting and ending in the same place, the display may be dull.
Boat Type

This panel shows the type of the boat used in this race.
Each boat have specific performances profiles.
This includes intrinsic polars charts, sails and options sets, which may vary from one boat to another.
Providing the boat type here is only informative, but useful for those willing to use an external router, and use proper polar data.
In this regard, you might want to use the dedicated CSV Generator application.
Countdown

This panel shows the time remaining to the incoming event on the race selected.
When a race is not yet started, the start time is displayed and the countdown updates every second until the start time is reached.
Incoming races are colored in "blue", according to the color code used in the Race Selector.

When a race is in progress, the countdown shows the end time, and the counts only the amount of days remaining until the race closes.
Races in progress are colored in "green" (in progress) or "dark red" (about to close within 2 days).
A closed race has no countdown anymore, which is replaced by the message "No information to display right now".
Get Polars

This panel lets you access the CSV Generator application to build your own polars data that will be useable in your favorite external router.
This panel used to have 2 deprecated download links providing direct access to ZIP archives containing CSV/POL files for each sail.
These links have been removed as all they were doing is now possible to obtain using the CSV Generator.
Menu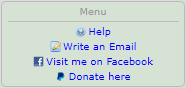 This panel simply provides useful links related to the Polars Apps.
Useful to you... because this is where you will find help if needed.
It is also where you may discover hidden features that you didn't know about so far...
Useful to me... because if you find my work valuable, it is where you can express your gratefulness.
Any help of any kind is well appreciated though.
---
This being said, use this Section as a Wiki for any questions related to a part or another of the Polars applications.
If you still don't find a relevant answer that fits your need, then you can use the contact form.
You are requested to provide as much information as possible if you are reporting a Bug or requesting for a new Feature.
Also, make sure to provide a valid email address so I can contact you back if need be.
Irrelevant Emails containing unrelated materials, spam, insults or any other off-topic stuff will be simply ignored.
Partners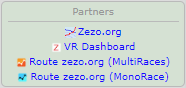 This panel provides links to other useful applications in the Virtual Regatta™ ecosystem.

Zezo.org
The best free router out there.
VR Dashboard
This Chrome Extension monitors data exchanges between the VR Game UI (Client) and VR Servers, and provides a HUD Dashboard connected with Zezo.org Router, WindInfo and Toxcct's Polars.
Route zezo.org (MultiRaces)
This Chrome Extension extracts the path suggested by Zezo.org Router, and translates it into a textual/tabular output.
This extension is intended to be used in a multiraces context, thus can only be launched when having a Zezo.org tab focused.
Route zezo.org (MonoRace)
This Chrome Extension extracts the path suggested by Zezo.org Router, and translates it into a textual/tabular output.
Unlike the multirace extension above, this extension is intended to be used in a single race context. That means that you can open the latest path table gathered from any tab focused, but don't get mistaken if you are routing several races at the same time.